Antibody Services
Sangon provides a one-stop solution for worldwide customers' antibody needs. Our antibody production services include recombinant protein expression, peptide design and synthesis, polyclonal and monoclonal antibody production and affinity purification. Our packages provide you desired antibodies that will be successful in basic applications or guaranteed to work in your assay of choice.
Advantages:
Stable and reliable technology: we provide exceptional service at any time;
Professional peptide design and synthesis protocols;
Superior quality with very competitive prices;
Guaranteed services.
Antibody Service Flowchart: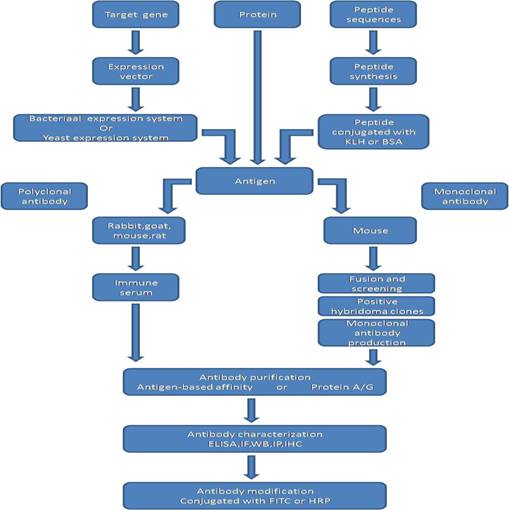 Polyclonal antibody production services:
Description
Service Protocol
Deliverables
Guarantee
Price
Polyclonal Standard Peptide Package
Peptide design, synthesis and conjugation (additional fees required)
Purified antibody (at least 2mg)
ELISA titre > 1:50,000.
$475
Immunize 2 New Zealand Rabbits
1-2 ml of pre-immune serum
Serum collection
1 mg peptide
Antigen affinity purification
Progress reports
Antibody validation
QC data
Polyclonal Guaranteed Peptide Package
Peptide design, synthesis and conjugation (additional fees required)
1st shipment: sample antibody
Dot Blot-positive against peptide and have ELISA titre > 1:50,000. Works in Customer Assay.
$1350
Set up of $400
Immunize 4 New Zealand Rabbits
2nd shipment: purified antibody (at least 2mg)
Serum collection
1-2 ml of pre-immune serum
Antigen affinity purification
1 mg peptide
Progress reports
Antibody validation
QC data
Polyclonal Standard Protein Package
QC client's antigen. If DNA is provided, additional fee is required for expression.
Purified antibody (at least 2mg)
ELISA titre > 1:50,000.
$475
Immunize 2 New Zealand Rabbits
Serum collection
If protein is expressed by Sangon, 50ug -500ug of antigen will be provided.
Protein A affinity purification
1-2 ml of pre-immune serum
Antibody validation
Progress reports
QC data
Polyclonal Guaranteed Protein Package
QC client's antigen. If DNA is provided, additional fee is required for expression.
1st shipment: sample antibody
Dot Blot-positive against protein and have ELISA titre > 1:50,000. Works in Customer Assay.
$1350
Set up of $400
Immunize 4 New Zealand Rabbits
Serum collection
2nd shipment: purified antibody (at least 2mg)
Antigen affinity purification
If protein is expressed by Sangon, 50ug -500ug of antigen will be provided.
1-2 ml of pre-immune serum
Antibody validation
Progress reports
QC data
Polyclonal Phospho-Specific Package
Peptide design, synthesis and conjugation, including the modified peptide and unmodified control peptide (additional fee required).
Purified antibody (at least 1mg)
Dot blot-positive against peptide and have ELISA titre > 1:50,000, and modified/unmodified titer ratio > 8.
$1900
Set up of $600
Immunize 5 New Zealand Rabbits
Serum collection
Antigen affinity purification and cross-reactivity reduction
1 mg modified peptide and 1 mg unmodified peptide
1-2 ml of pre-immune serum
Antibody validation
Progress reports
QC data
Monoclonal antibody production services:
Description
Service protocol
Deliverables
Guarantee
Price
Monoclonal Standard Package
Antigen design and production or QC client's antigen
1-3 hybridoma cell lines
ELISA titer > 1:50,000
$2850
Set up of
$850
Immunize 5 Balb/c mice
2 mg purified antibody from 1 hybridoma cell line
Fusion and ELISA screening
1 mg peptide or 50ug -500ug of protein if expressed by Sangon
Subcloning (2-4 rounds)
50-100ul of pre-immune serum(1:10 dilution)
Antibody production
Progress reports
Protein A/G affinity purification
QC data
Antibody validation
Monoclonal Guaranteed Package
Antigen design and production or QC client's antigen
1st shipment: Suerpernant from 10 ELISA-positive hybridoma cell lines
10 ELISA-positive clones
$4250
Set up of
$1,200
1 clone works in customer assay
2nd shipment: 1 hybridoma cell line with 2 mg purified antibody
Immunize 10 Balb/c mice
1 mg peptide or 50ug -500ug of protein if expressed by Sangon
Fusion and ELISA screening
50-100ul of pre-immune serum(1:10 dilution)
Subcloning (2-4 rounds)
Progress reports
Protein A/G affinity purification
QC data
Antibody validation
Monoclonal Phospho-Specific Package
Peptide design, synthesis and conjugation, including the modified peptide and unmodified control peptide (additional fee required)
1 hybridoma cell line with 2 mg purified antibody
1 clone that is Dot Blot positive
$5100
Set up of
$1,500
ELISA titre > 1:50,000
Immunize 10 Balb/c mice
1 mg modified peptide and 1 mg unmodified peptide
Modified/unmodified titer ratio > 8
Fusion and ELISA screening
50-100ul of pre-immune serum(1:10 dilution)
Progress reports
Subcloning (2-4 rounds)
QC data
Antibody production
Protein A/G affinity purification
Antibody validation
More Information
How To Order
Download Antibody Order Form and email to antibody@sangon.com and copy orders to fukang@sangon.com