Products-Reagents
Biochemicals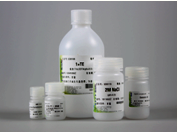 Sangon's products include antibiotics, nucleotides, proteins, peptides, polyamino acids, buffers, lipids, and carbohydrates all applicable for fundamental research. Our staff assures that the biochemicals are of highest purity and top quality. We strive for excellence and take pride in delivering to our clients and assuring their happiness. Our biochemicals are stored in a state of the art warehouse where optimal conditions are set for the biochemicals so they work for your experimental needs.
In addition to biochemicals, Sangon. also carries a tremendous variety of other reagents which makes us versatile for any clients needs. These products range from Markers, to Primers, to Mediums, to Protein Related products, to Labwares, and Complete Biochemical Kits.
Please also ask about our specialty products, including Agarose, RNaseA, dNTP, Proteinase K and much more.
Products
Contact Technical Supporter
| | |
| --- | --- |
| Phone | +86 800-820-1016 ext 2178+86 400-821-0268 ext 2178 |
| Fax | +86 02137772170 |
| E-mail | kit@sangon.com |